PRE-SALE! Not stock now, only accept book in advance.
Estimate will arrive Germany on middle of July!.
if you are in a hurry please not place an order!
Design with ac input /output 380vac 3 Phase only.
IGrid TT 10KW is a 3 Phase 10000w 48Vdc On & Off Grid Solar Power Inverter With Max MPPT 14850W Solar Inverter Pure Sine Wave Inverter ,it can feedback to Grid and make energy storage in to Battery bank. This 10KW hybrid Solar Inverter have 3 Operation Modes: Grid-tied, Off-Grid, On & Off Grid.
Product Main Features
10000W 48V Pure Sine Wave Inverer + 14850W MPPT Solar Charger + 40A Battery Charger

Max PV Input 900Vdc

Built-in 40A Battery Charger

Works With 380~415Vac Load Only

Works With 48v Battery System only

Max Grid-Tie conversion efficiency up to 96%

Peak inverter efficiency 93%

High efficiency transformerless design

Large LCD display of comprehensive system info

RS232 and USB interface available

User programmable functions

Bundled Free monitoring software with setting programs

CE, VDE4105 , AS 4777 certified

Supports Parallel Function up to 6 units Max(internal Parallel kits )
MODEL

IGrid TT 10KW

Phase

3-phase in / 3-phase out

Maximum PV input power

14850 W

Rated output power

10000 W

Maximum charging power

9600 W

GRID-TIE OPERATION

PV INPUT(DC)

Nominal DC Voltage Maximum

720 VDC / 900 VDC

Start-up Voltage lnitial Feeding

320 VDC / 350 VDC

MPP Voltage Range

400 VDC ~ 800 VDC

Number of MPP Trackers

2 / 2 x 18.6 A

GRID OUTPUT(AC)

Nominal Output Voltage

230 VAC (P-N) / 400 VAC (P-P)

Output Voltage Range

184-265 VAC* per phase

Nominal Output Current

14.5 A per phase

Power Factor

EFFICIENCY

Maximum Conversion

96%

European Efficiency@Vnominal

95%

OFF-GRID OPERATION

AC INPUT

AC Start-up Voltage Auto

120 - 140 VAC per phase / 180

Acceptable lnput Voltage Range

170 - 280 VAC per phase

Maximum AC lnput Current

40 A

PV INPUT(DC)

Maximum CD Voltage

900 VDC

MPP Voltage Range

400 VDC ~ 800 VDC

Number of MPP Trackers

2 / 2 x 18.6 A

BATTERY MODE OUTPUT(AC)

Nominal Output Voltage

230 VAC (P-N) / 400 VAC (P-P)

Output Waveform

Pure Sinewave

Efffficiency (DC to AC)

91%

HYBRID OPERATION

PV INPUT (DC)

Nominal DC Voltage

720 VDC / 900 VDC

Start-up Voltage

320 VDC / 350 VDC

MPP Voltage Range

400 VDC ~ 800 VDC

Number of MPP Trackers

2 / 2 x 18.6 A

GRID OUTPUT (AC)

Nominal Output Voltage

230 VAC (P-N) / 400 VAC (P-P)

Output Voltage Range

184-264.5 VAC* per phase

Nominal Output Current

14.5 A per phase

AC INPUT

AC Start-up Voltage Auto

120 - 140 VAC per phase / 180

Acceptable lnput Current

170 - 280 VAC per phase

Maximum AC lnput Current

40 A

BATTERY MODE OUTPUT (AC)

Nominal Output Voltage

230 VAC (P-N) / 400 VAC (P-P)

Efficiency (DC to AC)

91%

BATTERY & CHARGER

Nominal DC Voltage

48 VDC

Maximum Charging Current

Default 60A, 10A - 200A

GENERAL

PHYSICAL

Dimension,D X W X H (mm)

167.5 x 500 x 622

Net Weight (kgs)

45

INTERFACE

Communicaltion Port

RS-232/USB and CAN Interface

lntelligent Slot

Optional SNMP, Modbus and AS-400 cards available

ENVIRONMENT

Humidity

0 ~ 90% RH (No condensing)

Operating Temperature

-10 to 55°C

Altitude

0 ~ 1000 m**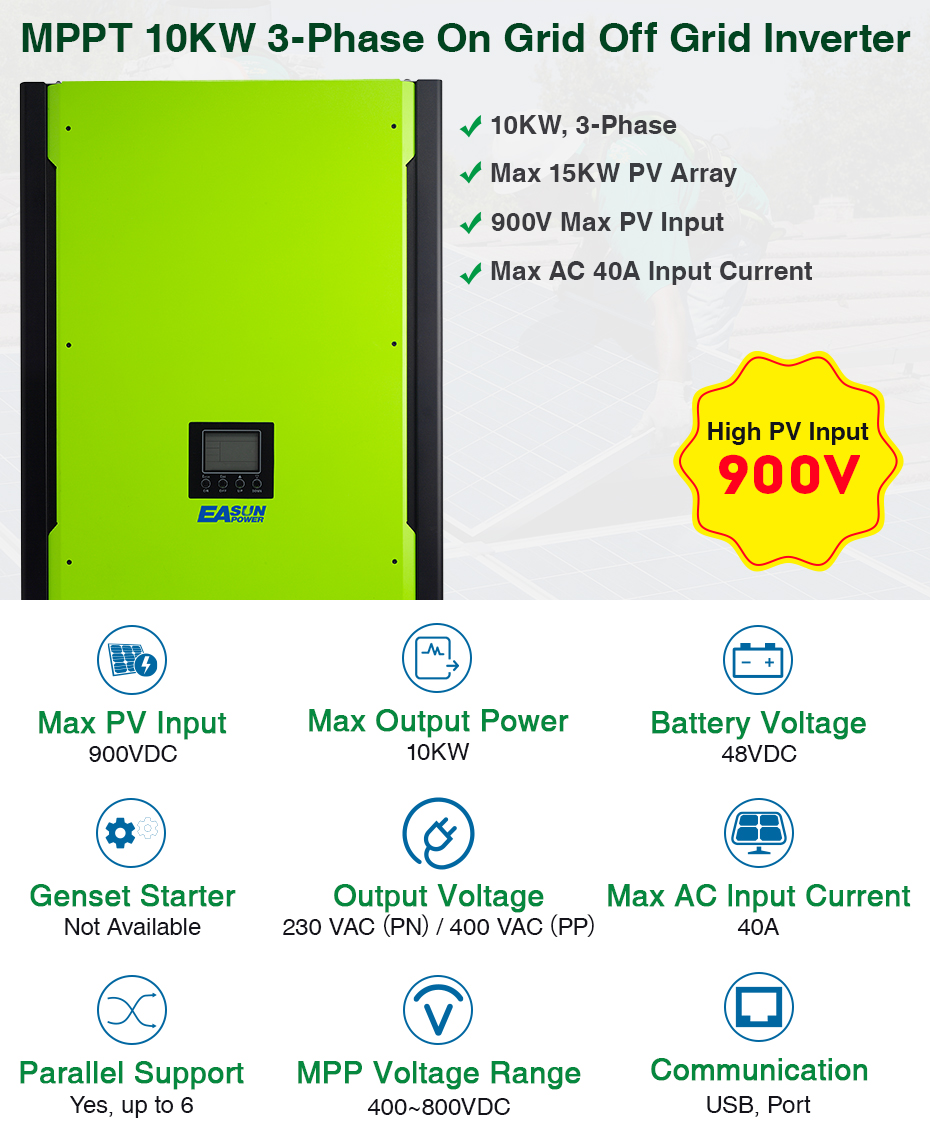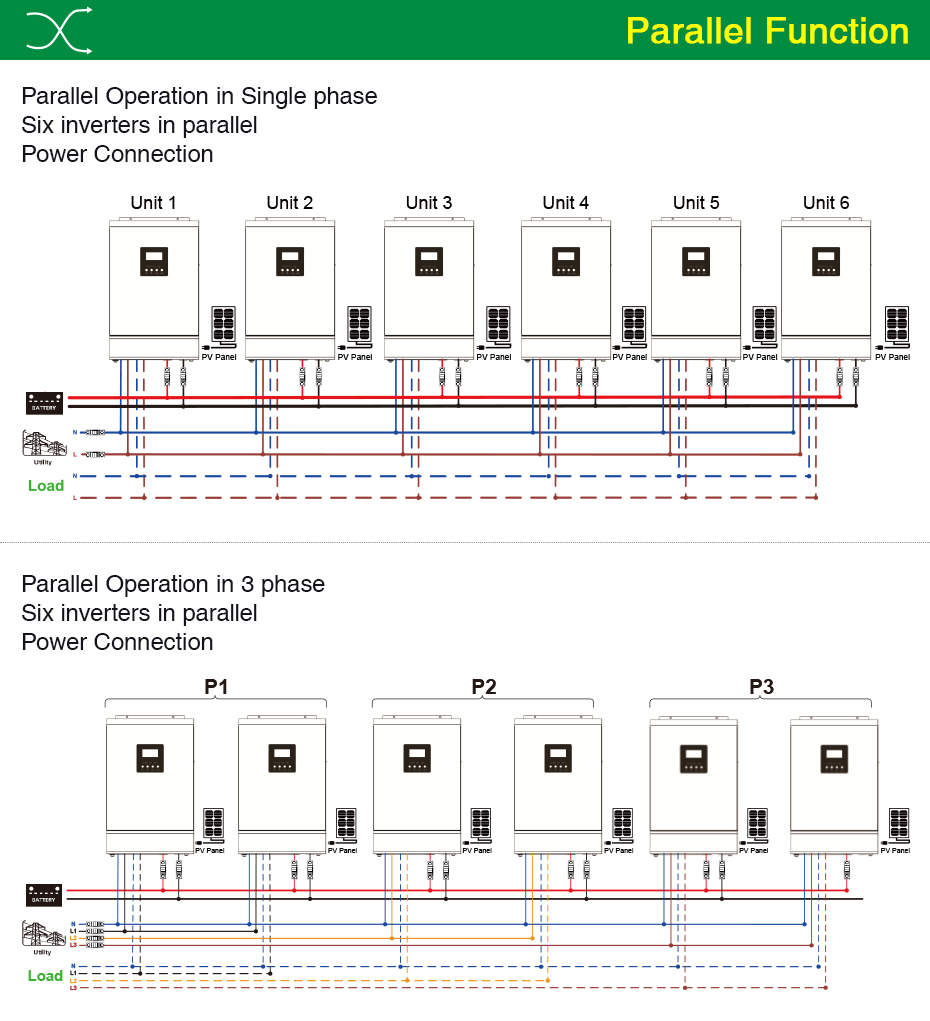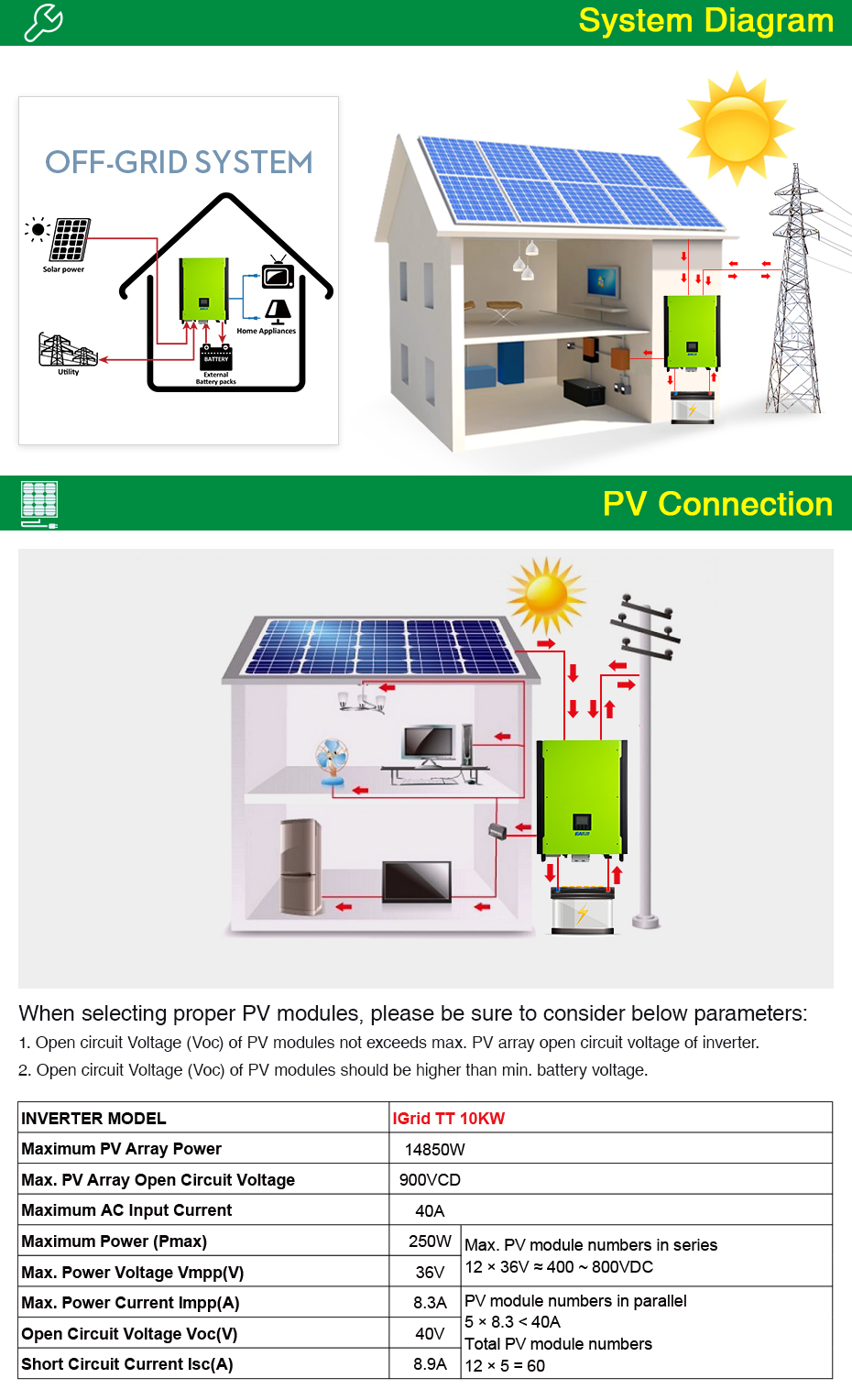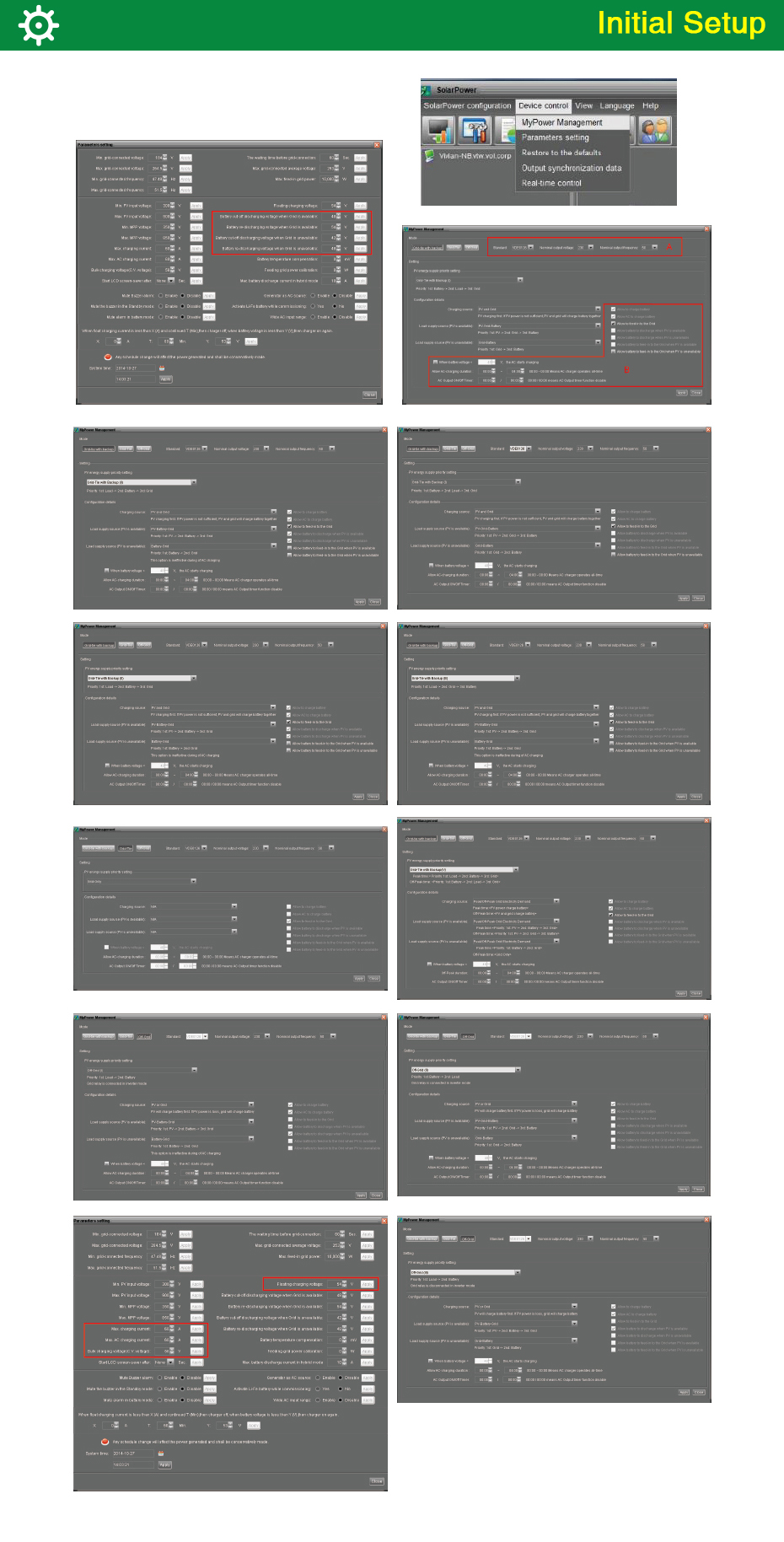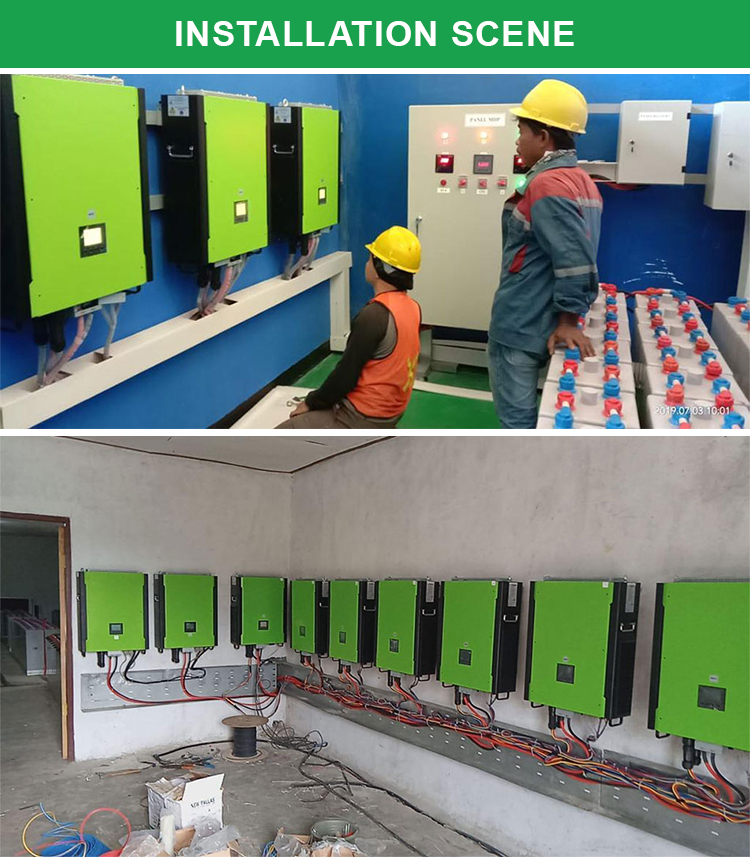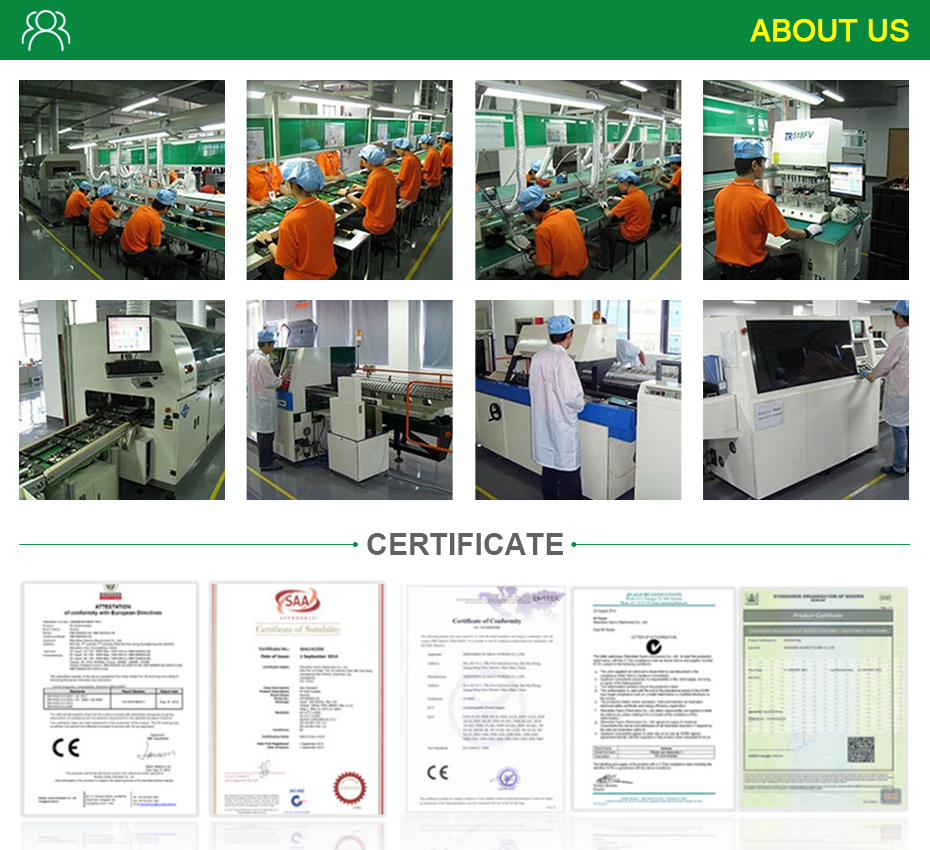 EASUN POWER IGrid-TT-10KW manual
EASUN POWER IGRID-TT-10KW SETTING
EASUN POWER IGRID-TT-10KW Parallel Guide